Brian McCann sounds off on his Team One Experience
Page last updated on Thursday, March 11, 2010 @ 12:00:00 AM Eastern Time
Becky Oldham
Team One Baseball
As any pro could tell you, making it the Major Leagues is no easy task. It is no surprise many professional players have the utmost gratitude for the people, places and events which played a role in getting them to the Big Show. This year will mark Brian McCann's sixth season at the Major League level, and not only has he made it to the big leagues but he's enjoyed tremendous success as the everyday starting catcher for the Atlanta Braves. At age 26, the four-time All-Star will look to continue improving upon his personal accomplishments while helping to lead once perennial N.L. East contending Atlanta Braves back into the playoff hunt. With such an excellent career thus far in the majors and in preparation for what he hopes to be another great season, McCann has not forgotten the important steps he took on the way to achieving his dream.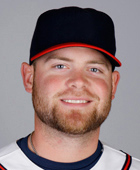 The Georgia native was drafted out of Duluth High School by the Braves in the 2nd round of the 2002 amateur draft. After a solid three and a half years in the minor leagues, McCann had proven to the Braves he was worthy of the call-up and made his Major League debut on June 10, 2005. McCann showed glimpses of his potential in the 59 games he played as a rookie and was named to Baseball America's All Rookie team. The very next season McCann became the everyday starting catcher for the Braves, batting .333 with 93 RBI and 24 homeruns to earn the NL Silver Slugger Award. He was also selected to his first All-Star Game, and was the only catcher in the majors to bat at least .300 with 20 or more homeruns.

From 2007 through 2009 McCann was selected as an All-Star each of the three seasons, making him a four-time All-Star in his five-year career. He also earned back-to-back NL Silver Slugger Awards in 2008 and 2009 to bring his career total to three. Despite the vision problems McCann faced last season he still managed to lead most offensive categories among National League catchers. Entering the 2010 season with his vision problem resolved the Braves are confident their star catcher will continue to improve on his already impressive career.

As a young high school player in Duluth, Georgia, McCann seized an opportunity which he credits to this day as an important step on the way to beginning his professional career. Team One Baseball, the showcase division of Baseball Factory, pioneered the baseball showcase in 1992. By 2001, Team One Baseball had amassed an impressive roster of players who went on to make their Major League debut, and it was then McCann was selected to participate in the prestigious showcase. An opportunity he took full advantage of, here's what the 2001 Team One National alumnus had to say about his experience with Team One:

"Team One provided me with the opportunity to showcase myself on the national stage in front of the right people in baseball," said McCann. "They ran a first class showcase and allowed the players the chance to promote themselves to teams and colleges. I'm glad I attended the event before I began my pro career."

The Team One National showcase gave McCann a valuable experience as a high school player and provided the stage for him to show his talent in front of college coaches and professional scouts. He would go on to enter the draft as a high school standout before being selected by the Braves in the 2nd round of the 2002 draft, and the rest is history! Baseball Factory would like to congratulate Brian on his success thus far and wish him the best of luck in the future. We look forward to more exciting baseball from the young Atlanta catcher!

***

Over the past fifteen years Team One Baseball has provided that same opportunity to the nation's top talent, with over 2,500 players selected in the Major League draft. McCann keeps impressive company among his fellow Team One alumni; over 215 players participated in a Team One event before reaching their dream of playing in the majors.

For more information on Team One's impressive alumni, please visit our website at www.teamonebaseball.com.

To find out if you qualify to participate in a Team One Showcase or other Baseball Factory event, attend an Under Armour Baseball Factory National Tryout in your region and show our scouts you have what it takes.